What is Yacht Rock? Well, a couple of things.
Yacht Rock is a short, mockumentary-style un-TV show that can be viewed at Channel 101
.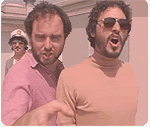 "Yacht rock" is also the term for the particular genre of music that is so lovingly and mockingly embraced by the show. As Hollywood Steve, the show's "host," puts it in the first episode, "From 1976 to 1984, the radio airwaves were dominated by really smooth music, also known as 'yacht rock.' These yacht rockers docked a remarkable fleet of No. 1 hits. And every song has a story behind it. Lemme tell you one." Each episode is a new story, and the characters are a cast of really smooth guys: "music industry mogul" Koko Goldstein; Michael McDonald, keyboardist and vocalist for the Doobie Brothers; Kenny Loggins and Jim Messina; Hall & Oates; Steely Dan; Jeff "Skunk" Baxter; Christopher Cross; Chicago's Peter Cetera; and, in this most recent episode, Steve Perry, formerly of Journey.
Did I mention the show is fucking hilarious?
See for yourselves
.