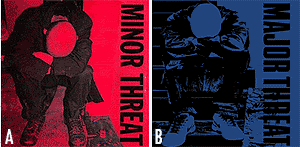 Exhibit A: Classic cover art of Minor Threat's self-titled 1984 compilation.
Exhibit B: Nike Skateboarding's poster image for its "Major Threat" 2005 East Coast Tour.
You don't need a degree in graphic design to notice the similarities here. They're the fucking same. Oh, wait-- one is blue, not red, one says Major, not Minor, and, uh, okay, there are some Nike logos tossed in there. It sort of brings to mind that old interview in which Vanilla Ice attempted to defend the difference between "Ice Ice Baby" and "Under Pressure" ("dun dun dun duh-duh-duh dun" vs. "DUN dun dun dun duh-duh-duh dun").
Come on, Nike, your Swoosh is one of the most iconic brand images in the world-- perhaps a tiny notch below the Golden Arches and maybe Coca-Cola. We understand that trading on the image of a legitimately punk rock, anti-corporate institution will lend some desperately needed credibility to your marketing campaign for the hearts of adolescent skate kids. But doesn't knowing full well that that institution-- in this case the venerable Dischord Records-- would never grant you permission for the use of that image, and just steamrolling the fuck over them anyway because your lawyers can beat up their lawyers negate the very ideals with which you're attempting to equate yourselves? I mean, there's unethical and then there's just flat-out mercenary.
Just to make sure Dischord hadn't truly gone back on everything they've ever stood for, we asked a representative from the label if Nike had asked to borrow the image. They said the following: "No, they stole it and we're not happy about it. Nike is a giant corporation which is attempting to manipulate the alternative skate culture to create an even wider demand for their already ubiquitous brand. Nike represents just about the antithesis of what Dischord stands for and it makes me sick to my stomach to think they are using this explicit imagery to fool kids into thinking that the general ethos of this label, and Minor Threat in particular, can somehow be linked to Nike's mission. It's disgusting."
Though the label is not sure as to what action they're planning to take, they are definitely not happy with Nike's choice. We'll keep you updated as we learn more about the situation.
From Dischord Records
Many people have now noticed that Nike has appropriated the Minor Threat artwork and logo for a new skateboard demo / ad campaign. To set the record straight -- Nike never contacted Dischord to obtain permission to use this imagery, nor was any permission granted. Simply put, Nike stole it and we're not happy about it. We are not yet sure what options, if any, we have to stop Nike from using our images to sell their shoes, but if you would like to direct your complaints to Nike that would be a good place to start.
You can email Nike
HERE
<----- Or give them a call: Nike World Headquarters: 1-800-344-6453 Mon- Fri 6:30 am - 4:50 pm (Pacific Time) To longtime fans and supporters of Minor Threat and Dischord this must seem like just another familiar example of mainstream corporations attempting to to assimilate underground culture to turn a buck. However it is more disheartening to us to think that Nike may be successful in using this imagery to fool kids, just beginning to becoming familiar with skate culture, underground music and DIY ideals, into thinking that the general ethos of this label, and Minor Threat in particular, can somehow be linked to Nike's mission. In any regard, we would like to thank the many people who have written to us in the last several days to express their outrage, support and encouragement.
UPDATE!
Yesterday, June 27th, 2005, Nike sent an apology letter to Dischord Records [
Read more
]