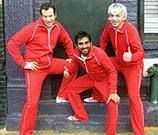 Human Giant
is a new comedy show coming to MTV next month. The four-headed video sketch comedy beast-- which consists of Aziz Ansari, Rob Huebel, Paul Scheer, and director Jason Woliner-- has finally nailed down a timeslot on the network:
Thursdays at 10:30
PM Eastern and Pacific Times (same time as This American Life .. ouch! God bless the DVR). Human Giant's guests include skateboarder Tony Hawk, comedians Brian Posehn, Patton Oswalt, and Rob Riggle, and former "Freaks and Geeks" star Linda Cardellini.
The first of the show's eight episodes airs
April 5
, but two days earlier, it will be available for free download via iTunes, Amazon, and XBOX. Later episodes will be available for download the day after the original broadcast.
Human Giant Web site
"Camping Weekend" sketch by Human Giant