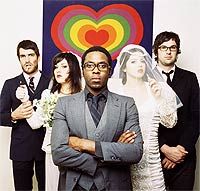 Pretty Girls Make Graves
have worked out an exclusive deal for all our friends.
Insound.com
(a friendly, all-indie-music-online-CD-store) is selling Elan Vital for $9.99.
But, if you use the coupon code "prettyinsound" you'll also get:
- A FREE Pretty Girls Poster
- A FREE Pretty Girls Scratch and Sniff Sticker that smells like pepperoni ice cream
- A FREE Matador Sampler with tracks from Belle & Sebastian, Cat Power, Mission of Burma and a bunch of other great music.
Just click on this link to Insound.com
, add Elan Vital to your cart and enter the coupone code: prettyinsound when you check out.
This deal runs out on June 6.