Mark your calendars! Stella starts on June 28th on Comedy Central
.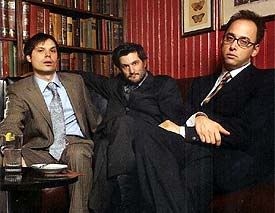 Stella
features the comedic trio of Michael Ian Black, Michael Showalter and David Wain as three characters whose travels through everyday life are unlike anything else on television. With a perfect blend of cleverness and absurdity,
Stella
satirizes everyday experiences like finding an apartment, hanging out at a coffee shop, going camping and trying to meet women. What are common, normal situations for most people quickly end up in the most unexpected realms when these guys are at the helm.
Even though they're always dressed in suits, their maturity level doesn't always fit their attire. These modern day Marx Brothers spread their non-sensical comedy to everyone they meet and everywhere they go. Their sensibilities are tinged with both sarcasm and wit; the characters, and the show in general, find a way to be both smart and sophomoric.
Check out the Stella page on Comedy Central's Web site
.
Check out Stella on "
The sound of young america
" - go to The Nucular Option